Date
June 05, 2015, Friday. Registration starts at 09:00 AM.
Venue
JW Marriott Absheron Baku, Azerbaijan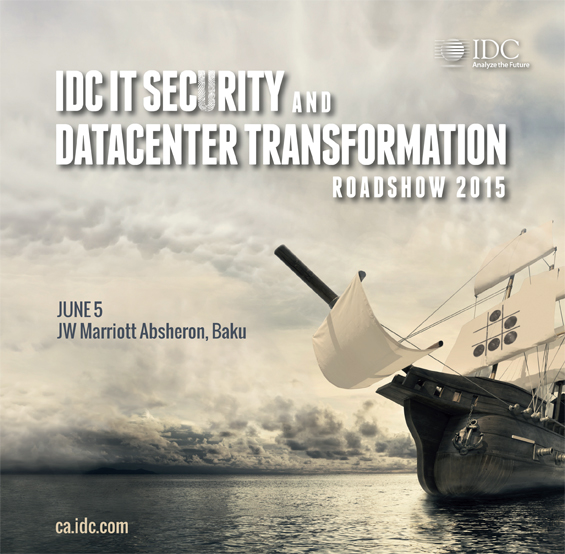 Modern realities force companies to take a fresh look at the Information Security (IS) and the Cloud, as well as the Big Data and Analytics, Social and Mobile Media. For some niche players, this means finding new market opportunities, while others are forced to look for ways to adapt in order to survive in the new environment. However, the biggest concern which remains crucial for customers is how to combat the targeted attacks and ensure the uninterrupted operation of critical business processes, and protect sensitive data. The universal expansion of cloud and virtual infrastructures, as well as the increasingly common mobile access to corporate resources represent another set of challenges for IT specialists.
The Annual IDC IT Security and Datacenter Transformation Roadshow 2015 will not only enable you to learn about the newest proposed solutions to these challenges, and the products offered by the leading international and domestic manufacturers, but also to discuss the most pressing issues of IT Security with experts and leading specialists in an interactive live format. The knowledge you will receive will help you feel more confident and more effective working with these technologies. Join us this year and learn how you can make these solutions not just another IT trend, but a true strategic business advantage.
Who should attend:
Storage Manager, Storage/Data Specialist
Chief Security Officers, Directors of Enterprise Security, CIOs, CTOs, CISOs
CIOs, CTOs, CISOs
Privacy Officers, Network Security Managers, Server Application Managers
Antivirus, Email Monitoring, VPN, and 3A Managers
Disaster recovery and business continuity managers
Technical managers, Facility managers
Other managers responsible for data retention
For more information please follow the link: ca.idc.com
"Bakutel 2015" 21st Azerbaijan International Telecommunications and Information Technologies Exhibition and Conference